ATEX Certified – Gear Driven – Side Entry Mixer
Designed Specifically for Petroleum Applications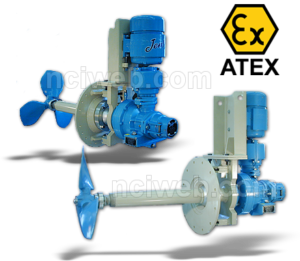 The Jensen Mixers Series 600 is specifically designed for Petroleum Services. Maximum horse power 75 and gear driven. The Jensen Series 600 Mixer is the only side entry mixer designed exclusively for use in petroleum service. Every design feature is tailored to meet the rugged requirements of refinery and pipeline applications. In every horsepower range it offers superior life and load figures, unmatched ease of maintenance and outstanding mixing efficiency. Jensen standard materials offer optimum performance in any hydrocarbon application.
Jensen Mixers hang directly on your tank's manway (only). No need for additional equipment such as tie rods and/or a base (unlike our competition). Jensen Mixers' short shaft design (which is supported both at the front and rear of the shaft) provides for vibration-free service. This ensures a long life to the mixer's mechanical seal, gearbox, bearings etc. Only Jensen Mixer provides you with a (mixer) propeller custom pitched for your application. Jensen Mixer has well over 15,000 mixers in service today. Go with Jensen and get unequaled experience, time proven designs that out-perform and out-last all of our competitors.
Shaft and wear sleeve – Stainless Steel (Option for 316SS)
Lock ring, lock bushing, & seal housing – 316 Stainless Steel
Drive Yoke – Aluminum Bronze
Propeller – Cast Carbon Steel (Option for 316SS).  Custom pitched for your specific application.
Gearbox – 356-T6 heat treated Aluminum Alloy
O Rings – GFLT Viton
The Jensen Series 600 Mixer is supported entirely by the tank manway or nozzle. No tie rods, bases or other external supports are used. Lightweight and low overhang design are the keys to this money saving feature.
Support for the propeller shaft is provided by the main thrust bearing at the outboard end of the mixer and by the shaft end bearing close to the tank shutoff device. With this long bearing span, any possibility of shaft whip is virtually eliminated. All moving parts are completely enclosed by protective covers.
The Tungsten Carbide coated wear sleeve is designed to provide maximum protection to the mixer shaft.  The Tungsten Carbide contact surfaces of the end bearing and wear sleeve assure long life and superior wear characteristics.
Series 600 Models
MODEL
620
650
680
HORSEPOWER (MAX.)
20
40
75
SHAFT R.P.M.
425
425
425
CRITICAL SPEED*
2,470 RPM
2,870 RPM
3,200 RPM
HORSEPOWER RANGE
5-20
25-40
50-75
TYPES
FIXED-ANGLE
VARI-ANGLE
FIXED-ANGLE
VARI-ANGLE
FIXED-ANGLE
VARI-ANGLE
*PROPELLER SHAFT FIRST CRITICAL SPEED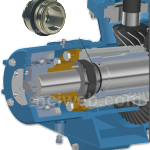 Innovative Coupling Design
The design simplicity of the Jensen Type FT Non-Lubricated Coupling guarantees maximum life even under the most severe conditions. The tough, multi-ply nylon and rubber flexible element permits angular and parallel misalignment far in excess of other couplings. Steel clamp rings secure the element to the hubs and provide a protective enclosure. Complete coupling covers (standard on every JENSEN Mixer) afford further protection. Removal of the driver, gearbox or flexible element can be accomplished without moving hubs on their shafts. The lower coupling hub forms a protective cover for the pinion assembly.
Efficient Propeller Design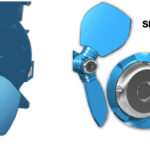 Tank mixer performance is dependent upon propeller design and efficiency. The exclusive Jensen propeller is Pitch-Adjusted and a highly efficient, three blade, marine type propeller precision set and permanently fixed at our factory to assure superior mixing performance in each individual application. Factory selection of optimum pitch/diameter ratio results in higher thrust, increased flow and maximum utilization of available power. The Jensen Pitch-Adjusted propeller is the most tested and most inspected propeller available on any mixer. Jensen has conducted exhaustive efficiency tests on Pitch Adjusted and competitive propellers at various speeds and horsepowers. Results showed Jensen Pitch Adjusted propellers to be more efficient in every horsepower range when operated at manufacturer's recommended RPM.
Jensen Pitch Adjusted propellers can easily be installed through most standard manways without removing the prop from the mixer shaft or entering the tank.
Durable Seals
When it's time to replace your mechanical seal, nothing is easier than a Jensen Mixer. We've earned the nickname of 'mechanic's friend' because of our unique quick-change mechanical seal system that can be completed in less than thirty minutes. The Jensen Mixers Series 600 Seal is the Type "F". The Type F Mechanical Seal is an integral part of every Series 600 Mixer. It is designed for long life at low cost. Materials of construction were especially selected to suit petroleum applications..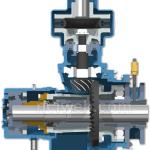 Jensen Series 600 Gearbox
The Model 600 gear box typifies the superior design engineering that has gone into every part of the Jensen Series 600 Mixer.
Maximum gear loading is 54% of rated capacity. Bearings have been selected for extremely long life even in continuous, heavy duty service. The lower flexible coupling half provides rain and dirt protection for the upper pinion bearing. Internal air volume has been reduced to eliminate condensate problems in tropical and coastal areas.
Gear case parts are of high strength, 356-T6 heat treated aluminum alloy. The body is of heat resistant steel to assure positive protection against product leakage under conditions of high temperature.
Materials for Cold Weather Service
| | | | |
| --- | --- | --- | --- |
| MIXER PART | MATERIAL | SPECIFICATION | LOW TEMP |
| Gear & Pinion set | AISI 8620 steel | ASTM A519 | N/A |
| Covers & Housings | Aluminum Casting | ASTM B26 SG70A-T6 | N/A |
| Body | Carbon Steel (cast) | ASTM A216 Gr WCB | N/A |
| Drive Sleeve | Aluminum Casting | ASTM B26 SG70A-T6 | N/A |
| Adapter | Carbon Steel | ASTM A516-60, ASTM A333 | * |
| | Stainless Steel | ASTM A351 Gr CF8M | N/A |
| Motor Mount | Carbon Steel | ASTM A36 | N/A |
| Coverplate | Carbon Steel | ASTM A516-60 | |
| Shaft | Stainless Steel | ASTM A582 Type 416 | N/A |
| Propeller | Carbon Steel | ASTM A216 Gr WCB | N/A |
| Lock Ring | Stainless Steel | ASTM A351 Gr CF8M | N/A |
| Hardware nuts, bolts etc.) | Carbon Steel | ASTM A193. A194 | N/A |
| 'O' Rings | Viton GFLT | ASTM D2000 AMS7278 | -40F (-40C) |
| | Kalrez (Optional) | COMPOUND 0040 | -43.6F (-42C) |
| Gaskets (Optional) | Klinger-Sil (non-asbestos) | | N/A |
JENSEN MIXERS DOES NOT RECOMMEND THE USE OF THESE MIXERS BELOW -20F (-29C) WITHOUT A SUITABLE ENCLOSURE
* -50F COLD WEATHER DESIGN TEMPERATURE STANDARD FOR CHARPY IMPACT DATA.
Available Downloads
Request Series 600 Spare Parts
(Type your company name to begin request)