Jensen Mixers Series 500 is a Gear Driven Side Entry Mixer
For Chemical & High Temp Applications (such as asphalt mixing)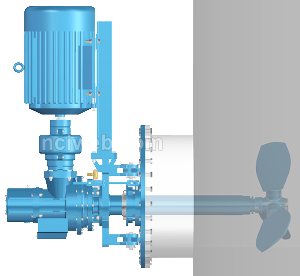 Jensen Mixers Series 500 are specifically designed for Chemical and High Temperature Services. Offering a maximum horse power of 40 and gear driven. There are multiple types of seals offered. The Jensen Series 500 Mixer is the only side entry mixer designed for use in chemical service requiring 316SS corrosion resistant wetted metal parts. Every Series 500 design feature is tailored to meet the rugged requirements of chemical plant and pipeline applications. Every horsepower range offers superior life and load figures, unmatched ease of maintenance and outstanding mixing efficiency. Jensen's standard 316SS construction materials offer optimum performance in most chemical services (other materials are available). Jensen Series 500 Side Entry Mixers are guaranteed to provide temperature uniformity and product homogeneity in petroleum, asphalt or chemical storage tank applications.
The Jensen Mixers Series 500 feature Jensen's 3-Blade marine type propellers each uniquely pitch adjusted to draw 90% available motor horsepower for the specific application so as to maximize the thrust that is necessary for blending tank cargos. All other manufacturer's offer from a selection of a few standard propellers and are forced to select the one closest to the required pitch and diameter often falling far short of ideal.
Jensen Mixers hang directly on your tank's manway (only). No need for additional equipment such as tie rods and/or a base (unlike our competition). Jensen Mixers' short shaft design (which is supported both at the front and rear of the shaft) provides for vibration-free service. This ensures a long life to the mixer's mechanical seal, gearbox, bearings etc. Only Jensen Mixer provides you with a (mixer) propeller custom pitched for your application. Jensen Mixer has well over 15,000 mixers in service today. Go with Jensen and get unequaled experience, time proven designs that out-perform and out-last all of our competitors.
Shaft – Stainless Steel
Lock ring, lock bushing, & seal housing – 316 Stainless Steel
Drive Yoke – Aluminum Bronze
Propeller & Body – 316SS
Gearbox – 356-T6 heat treated Aluminum Alloy
O Rings – Viton "A", Buna "N" & Teflon encapsulated Viton
Shaft Seal: Several options for shaft sealing include the traditional stuffing box and several mechanical seal designs including single and double seals with flush arrangements.
Tank Shut-Off: This feature allows for emergency replacing of the packing or mechanical seal cartridges and also the removal of the gear box with the tank in a full condition.
All Stainless Steel: The Jensen Series 500 is available with all wetted metal parts 316SS for enhanced resistance to corrosive tank cargo.
Shaft Alignment: The Series 500 has a self aligning shaft that does not require realigning when replacing mechanical seals and/or gear box assemblies.
Tank Mounting: Furnished complete with manway coverplate the Series 500 offers the unique feature of self-support on the tank manway. No external tie-rods or foundations are required. The Jensen low overhang-narrow profile-short shaft brings vibration to an absolute minimum thus increasing bearing and seal life and greatly extending mean time between maintenance. Manway developed stresses are a small fraction of API 650 allowable. Stress calculations are provided as verification.
SELECTION OF THE JENSEN MODEL 500
Defining your requirements and selecting the right mixer to do the job is most important. Jensen offers a mixer specifically tailored to every need. Jensen process recommendations are fully guaranteed. Jensen mixers are guaranteed against defects for 12 months.
THE JENSEN MODEL 500 FOR BLENDING
Blending includes the prevention of stratification in blended products, elimination of solidification and crusting at the product surface, heat transfer for uniform product temperature and blending of two miscible fluids.
All of these applications require basically the same approach with respect to fluid flow patterns and mixer horsepower ratings. It is generally accepted that the most desirable flow pattern in blending operations is a slight horizontal "swirl" combined with considerable vertical turnover.
To accomplish this, the mixer is installed at a slight angle with respect to the tank center line. This angle will vary from 10º in large tanks to 7º in small tanks. In most cases it is desirable to locate the mixer close to and clockwise from the fill line as shown.
Operating procedure is one of the most important factors affecting blending applications. When writing specifications, engineers should give special attention to this as required horsepower in identical tanks may vary greatly due to different procedures and fluid characteristics (viscosity in particular).
HIGH TEMPERATURE JENSEN MIXERS
Jensen Series 500 High Temperature and Asphalt Mixers are the only mixers which allow use of modern, efficient mechanical seals in these services. The extended cavity oil purge system protects seals from contact with tank fluids and eliminates any need for steam piping and jacketing. Inherent in the design is keeping asphalt out of the mixer thus eliminating a very significant maintenance risk. Alternatively, the Series 500 design offers a packing gland option for asphalt service that has proven to be very successful.
Related Downloads